Apple Inc. has been a truly "iOrganization" – An organization with ideas. Apple since the reemergence of Steve Jobs has been leading the market till we have discovered a new tech cynosure – Android. Android has challenged the single handed authority of Apple in smart devices segment. But there are certain things that you will find only in Apple's device.  You will never find that elegant appearance with metal finished design in any other phone. You can say the same for camera with Apple iPhone camera review – Click your moment anywhere, any when.  Here we are reviewing the features and Hands on with Apple iPhone 5 Camera.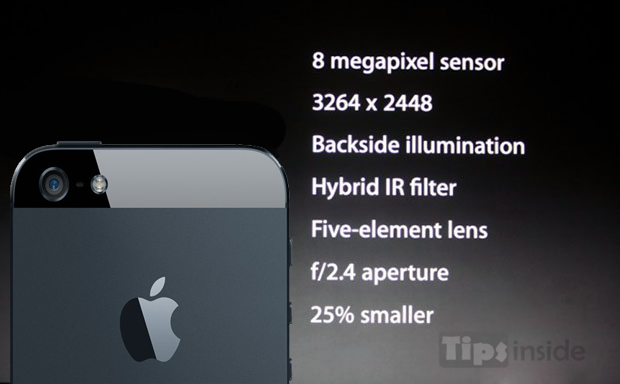 Apple has always believed in class.  When the very developers launched the much awaited iPhone 5, they unveiled best in class 8MP camera. The camera with same pixel resolution was also available with 4S. Then what has been changed in iPhone 5?
Size, speed and Built :
The iSight camera for iPhone5 is 25% smaller in overall size than its predecessor. We believe our audience is quite learned regarding reducing sizes in smart devices segment.
Along with decreased size this camera takes picture at 40% faster rate than that of iPhone 4S.
There was a glass aperture with 4S camera but here in new device Apple has replaced that aperture with a 6mm disc of crystal sapphire, for good. While having hands on with device we find this disc has higher strain and stress tolerance than that of glass aperture.This disk is also a bit thinner.
With a larger screen of iPhone 5 you will have a bigger shutter release button, which has undoubtedly increased the tapping efficiency of end user.
Image quality :
Image quality with new iSight camera is still among the best as you have unchanged 8MP camera with sensor shooting via 5 elements, f/2.4 lens.
As compared to 4S image quality has increased practically with higher hue and chroma synchronization as analyzed by expert.

source : gadget-specs.com

Some has been comparing the image quality and speed with Galaxy Nexus. Yes as far as the speed is concerned both cameras are neck to neck, but when it comes to quality measures iSight has clear upper hand.
The all new Panorama mode :
iOs 6 has enabled new iPhone 5 with this amazing feature.
You just have to put your thumb on a button and swipe the device; you will have an image file with resolution of 11000×2500.

panorama

During hands on device is capturing the image flawlessly. But the mention resolution does very depending upon how efficiently you have swiped the device while capturing the view. They are describing it a glitch free feature, but it does have some sluggish moment during our test.
Front Camera is leading from the front :
We have seen some enhancements in primary camera. But stay tuned the front camera quality has been improved massively.
In 4S there was a VGA Face Time camera with 1.3MP, but now you will have 1.2 MP HD Face Time units.
 Now you are able to capture 720p Video with that. This increased resolution is well supported by overall enhancement in image quality. The colors in the image are quite vibrant.
So, this is all we have with Apple iPhone 5 camera, you can capture your moment with it for sure.