Hello tweaktaggers, as you all know that India's leading IT company, Tata Consultancy Services has launched its portal for the students and budding engineers to socialize themselves with the organization. It was launched with a motive to make the young technocrats to familiarize themselves with the environment of the organization and also to improve their knowledge in their own areas of interest. The explanation and uses about the portal has been explained in our site itself.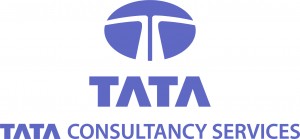 Features of Campus Commune :
Ask questions on your areas of interest and gain knowledge from experts.
Attempt to complete the challenges like solving puzzles and crosswords.
Know about the company and what they exactly do there.
Why we have to use Campus Commune ?
The important question that runs on your mind after registering in that portal is " what is the use of joining ? Is it important to register in this site ? ". If that is what you think, believe us, it has its importance too. The TCS checks the portal and the number of college students who are registering in it. During placement the company verifies this list as to know how many of them are showing interest in the company.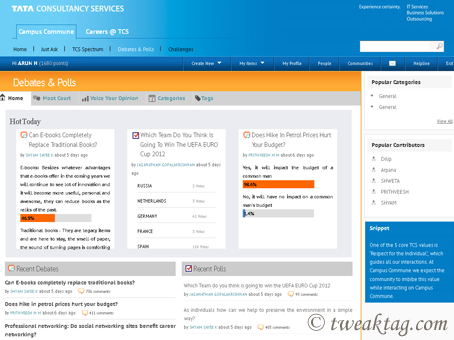 Interesting Facts on Campus Commune :
After registering you can see that you have scored 1 point, which indicates that for certain set of tasks you get a set of points. You are allowed to post your own question and your group admin will approve it. Make sure to post innovative questions on programming, placements and upcoming technology. You might think that 'what is the use of scoring such points ?'. Well. here is your answer, the TCS portal keeps track of your account and the frequency of its usage.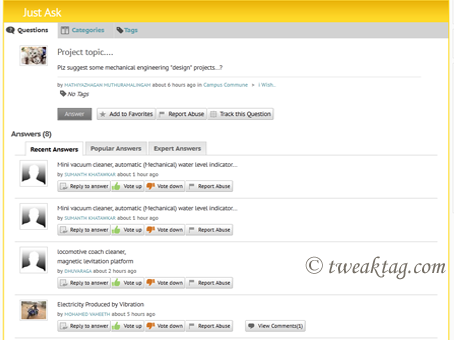 How to ask questions on Campus Commune :
Make sure to ask questions regarding placements, recruiting criteria, latest technology and the concepts of programming.
The admin will approve only such types of questions and will not encourage anything based on your college subjects.
These questions carry 2 points each and we get the answers from other members who might be experts on your area of interest.
Sharing your knowledge with others is one of the motives of Campus Commune.
How to acquire points in Campus Commune ? :
After knowing the importance of points you earn in the Campus Commune we now want to know get it in fastest way.
Here are some tips on how to get points in Campus Commune,
For each quest you answer you get 2 points and for each 'like' you receive 1 point.
Make sure to answer all the questions that doesn't look silly.
Try to study more about the concepts to make your answer in satisfactory manner.
Like the answer that inspired you the most.
But never use the site to gain points alone. The knowledge gained is the most important thing than gaining some points in the website. There are also lots of debates and polls available on interesting topics along with the events that the TCS has been working on to update our knowledge on the company.
Hope this article is useful.
regards,
Tweaktag Team