Social Media had greatly revolved on 2012. Not only people join and sign up for this social media networks, but also businesses big or small. Thus, social media networks in the year 2013 will be much greater than ever before.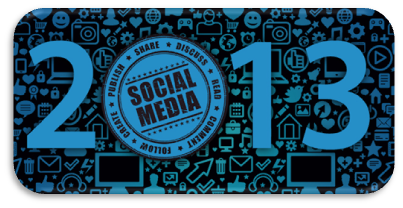 Here are some of the things we need to expect in 2013.
 1. Facebook profits will continue through its services
 A social media networking site which started from scratch, gaining popularity every year makes its existence known to the world. Members of Facebook reached a billion members in the year 2012, a feat to be remembered. Zuckerburg became a billionaire because of a social network he made. Profits will clearly be flourishing to Facebook through all the services they are giving to the members of Facebook. This site's journey to being popular to the world population wasn't that easy, Facebook didn't collapse unlike other social networking site did even if some flaws resulted in more ways than one. This social media site will become much greater and will continue to improve its site while retaining the world popularity.
 2. Content marketing as a major tactic for businesses
 The power of Content Marketing was really shown in 2012. Businesses found it effective advertising and begun to take Content Marketing seriously. In 2013 businesses will pour massive efforts into this influential strategy to help their company to establish their name around the internet.  It is predicted that there will be a lot more companies to get involved in content optimization as a full campaign. Social networks will be the top most platforms used in Content Marketing.
 3. Google+ will catch up on its demographic
 During its launch, Google+ was a flop. It did not gain the population that it was expecting. Social networking titans such as Facebook, Twitter, and LinkedIn were its biggest competitors. This decreased its chances to shine and gain client base. However, the search engine tycoon has made some major upgrades and added features to its social network counterpart. Developments in their system would become its foundation to re-launching its site as a force to be reckoned with. Soon, Google+ is expected to drive traffic on its website and people would become engaged with the domain like how social tools in Facebook are used.
 4. Online social presence of industries will be more visible
 Recently, businesses have started to change their game plan when it comes to management and advertising. Brand recognition has never been so dependent on social media unlike today. In the near future, having a strong social presence will become a necessity for companies to advance and reach their goals of profit increase. 2013 will become a year for businesses to build their networks through social media.
 5. Increase the power of photos
 A great trend that has gained a large following for users is photo sharing. Websites like Instagram and Facebook have proven to be popular because of photo sharing apps. The magnitude of this trend will not be decreasing any time soon. The demand for avenues to connect with people through images will certainly expand in 2013.