When you're trying to create a professional-looking video, your choice of software is going to be of the utmost importance. Conventionally video creation has been regarded as complicated and technical, which is why many people tend to not pursue it – but the Movavi Video Suite flies in the face of all that.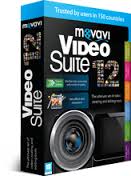 Instead of being confronted with numerous technical settings, dense menus and complex tools, the Movavi Video Suite adopts an accessible and intuitive approach to its user interface and features. As a result, even if you have no prior experience with video creation you should be able to learn how to do so using its features in a matter of minutes.
Being as easy to use as it is, the Movavi Video Suite also does not skimp when it comes to features and will hand you everything you need to create professional-looking videos. Its features stretch across numerous areas, such as:
Cutting and combining video segments to create a 'final cut' and get rid of any excess video footage.
Enhancing the video quality and fixing all the common issues with captured video such as shaky, blurry or pixelated footage.
Adding text that can be customized and stylized to form captions, subtitles, titles or watermarks.
Inserting stylish transitions between scenes to give the video a little bit of extra polish.
Using visual effects to transform the appearance and style of a video completely. Some of the options available include styling it as a retro movie, using a split-screen effect, creating a slow motion sequence, and over 40 others.
Adding background music or voiceovers from audio files or by capturing it through a microphone.
With the help of these features along with the many others in the Movavi Video Suite's arsenal – you should definitely be able to realize your vision. Once you're done, even saving the video itself will be an easy process thanks to the hundreds of presets that are available to automatically select the best video format and settings for your device or platform.
If you want to make videos, the Movavi Video Suite is definitely worth checking out. By trying it yourself, you'll be able to see firsthand just how easy it is to use and how much it is capable of. From there, it shouldn't be too long before you're able to come up with some great and professional-quality videos of your very own.