Hello, tweaktaggers. Today we will see about a code fest. Are you a final year engineering candidate in India, are you a TCS Aspirant. Then here you have a valuable chunk to know. TCS Campus commune wing is conducting coding fest for its future workers. To know about Campus Commune Click here.The first main emphasize is that the members can be of any department or any major.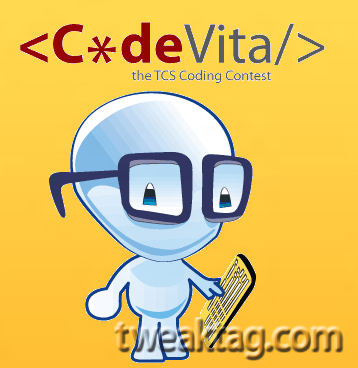 Criteria's for participating in code vita :
If TCS visits your college for recruitment, then you might have for sure heard about the Campus Commune. With a hope that you have registered in the Campus Commune Site. If not click here to Register Here!
After registering you will have a CT number that is the unique number given by TCS to you.
You can form a team of three and register to the code vita.
Be careful in filling the registry form of the Code vita, you cannot edit any information entered after registration completes.
And only one registration is allowed for a CT number.
Registration :
After forming your team, ensure that all the three members have registered in the Code vita site with their respective CT's. If not click here to register to code vita. In this link you will be prompted to read through terms and conditions. Take a look at those things and continue at the end of the page with Click here button.
At the end of the registration you will be prompted whether you are team leader, collaborate with your team and pursue with that option.
Now you have all your three members registered individually in the code vita site. See to it that you will be logged in and taken to the team formation page when you complete registration. Don't go to that page before ensuring that all your team members have registered.
After this the team leader must log in and click on the option form your team which is the first option in your dashboard, in that give your team members CT and the Team members username that they registered in the code vita registration.
After entering appropriate details, you can see the team formed and note down your team number.
And that's it you are done with the registration.
Equipping to code :
The languages allowed for this contest are C, C++, Java, C#.
They are asking for a compiled solution for the problem posed.
Download compilers from these links:

Java – JDK 1.5
C & C++
C#

You can also use Netbeans, Visual Stdion IDE for Java, C, C++ and C#.
Visual C++ is not advisable to use since the compilation varies from system to system.
Contest details :
The contest is scheduled to be in three rounds:

Practice round – 3 to 5 August
Round 1 – 6 to 7 August
Winner announcement Round 1 – 10 August
Round 2 – 14 August
Winner announcement Round 2 – 17 August
Grand Finale – 31 August
And that's it you are ready to code, Happy Coding, wish you win the first prize.
Want to know about Code Vita Questions format and Test Procedure ,refer this :
TCS Code Vita Practice questions
Hope this article is useful.
Regards,
TweakTag Team.