In windows 7 there is issue that flagged Turn on Windows Security Center service ( Important ) is also one of the major problem, This possibly happen while due to any malware or missing of any system files, This can be fixed using following steps, Windows Security Center service is a system service that watching  security applications like Anti-virus, Firewall, Spyware etc, Since if there any malware has been crashed any anti-virus means Windows Security center will warns the user that Ant-virus protection has been disabled, So malware targets to crash the security center service in windows 7,turn on windows security center service windows 7

At the normal use of windows , You supposed to get the error message like this means, what you did?
Yes ! you are right, You probably select that issue and select Turn on now on Action Center, After clicking that, Still you got the message like this means what you will do?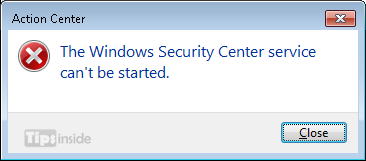 Let See How to Fix it
Enable the Windows Security Center Service (Solution 1) :
To Start the service, Use Administrative tools by hitting Start key and type "Administrative tools"
After Getting a window, Open Services from Administrative tools.
Now select Security center in Services.
Open properties of security center.
Under General tab, Select Startup type to Automatic, Also manually hit Start button to start the service.

Hit Apply and exit by pressing OK,
Now it get working well, If still continuing problem means, Proceed to Solution 2
Fixing Security software problems (solution 2) :
Disable Anti-viruses or any security software if installed,
Now restart your system and again do above method ( solution 1),
If still existing the problem, Uninstall the application by using removal tool,
Instal a fresh updated copy of security application and try Solution 1.
Update your system by fixing missed files (solution 3) :
Download and scan the missing file in your operating system using Microsoft Safety scanner,
I hope this may helpful to you, Still having problem means, Feel free and comment below,