Cityville by Zynga is worldwide famous online game available at Facebook, It's a biggest network game which it allows us to play with our friends.. Really Nice game and get's more online visitors daily, actually it avail only on Facebook at beginning, but it now also available in Google + also,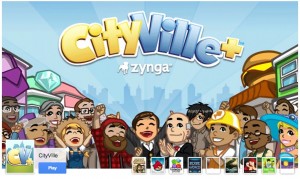 Steps to play Cityville on Google + :
Sign in to your Google + account,
Select Game Tab On Header,
Search Cityville On It, (Also you See City ville On Featured GameList),or Select By Following The Link.
Select Play City ville, It Ask Permission To Access Your Profile,Just Hit Allow Access.
Now Invite Your All Friends and play Cityville With more Neighbors. 😀
That's all, now enjoy Angry bird And make high score than your friends, happy playing  😉 .