Hello friends, these days we got mails from our visitors insisting that they have problem while they get into the site "https://nextstep.tcs.com", the TCS Campus commune, so we have a clear explanation of why this happens and how to rectify this. We hope that most of the user's use Mozilla, IE and Chrome so we have dealt with those browsers, remaining browsers if you are still popping out with some problems you can comment below.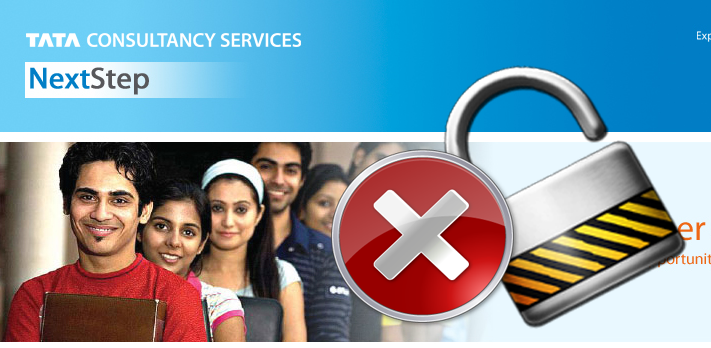 Basically you may have a prompt that "There is a problem with the security certificate.". This is the thing to know, usually browsers are familiar with the security certificates provided by Thwate, Verisign, Comodo Securtiy, Godaddy etc. These organization have a collaboration with the browser companies, making themselves recognized in these browsers, which means the data you send are encrypted over the network and these encryption by these companies are familiar or recognized by the browsers. The browser believes a set of companies as a trusted one and the security certificates that a site presents to the browser when the browser requests some data is presented by the site, so the browser compares it with the set it has, that is from the Thwate, Verisign etc. If that doesn't make a match then it will alert a message that security is at risk. This is because the TCS company makes its own certificate with its own encryption algorithms, that is not recognized so it pops up with a message.
Rectifying it :
Rectifying the problem is rather a simple task.
For Internet Explorer Users :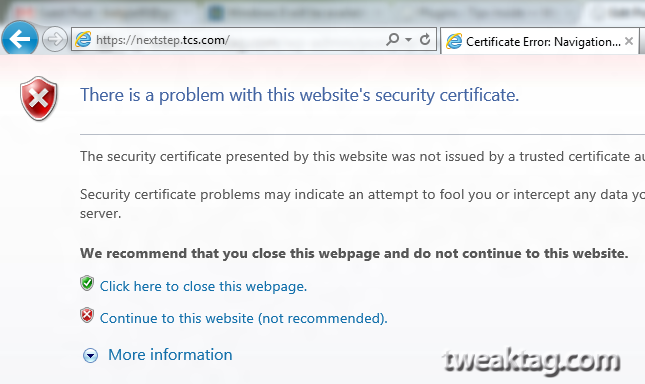 In IE you need to click on continue with the site, which is not recommended. But going with that is quiet OK.
For Chrome Users :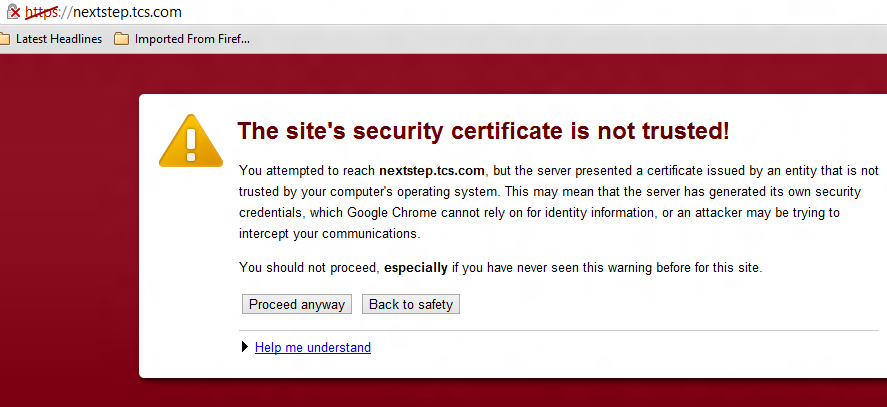 In chrome you can see the message the site's security certificate is not trusted with a red background, but here you will have a brief explanation, here click on proceed anyway button.
After getting the Campus commune, You have landed to a login page,
After login, You receive a dashboard before entering the campus commune, Later you hit Launch Campus Commune, nothing will happen in chrome, Because the Campus Commune will launch in a pop-up window only, here Chrome block that pop-up window,

now we have to enable the pop-up windows manually like give in image,
For Firefox users :
In firefox this problem is eliminated instead of popping up with this message every time you get into the site,

Firefox adapts a different mechanism as exceptional list for these sites.
Once you confirm a site to be exceptional for the security certificates,

then you will not be prompted with a warning message for that site next time,
since you have added the site to the exceptional list.
Besides Firefox is much more advantageous, you can know who are tracking you when you enter a site, Click here to know more about it!
Besides all the odds of Internet explorer has managed to come up with better features with IE 9, to know about those things click here!
Want to know How to score more points in TCS Campus Commune, have a look on it,
You can post your probs if they persist, hope this was useful.
Regards,
TweakTag Team.