ZoneAlarm® Free Firewall 2012,The World's most downloaded firewall software. Block hackers and intruders from accessing your PC, Also the main thing is It's Free Firewall Application for Windows,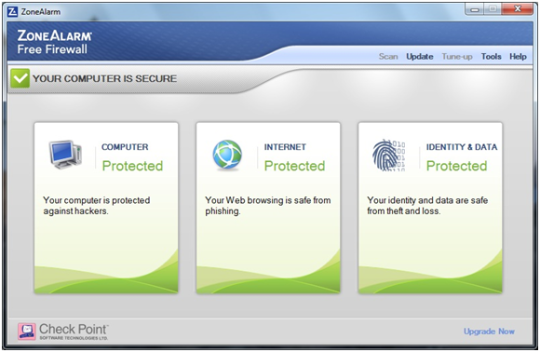 PC Security :
2-Way Firewall (Inbound & Outbound)
Stops Internet attacks at the front door and even catches thieves on their way out. Our 2-way firewall proactively protects against inbound and outbound attacks while making you invisible to hackers.
Inbound & Outbound – monitors and blocks threat traffic in or out.
Full Stealth Mode – makes you invisible to hackers
Kill Controls – instantly disable malicious programs.
Passes Independent Leak Tests* – passes 100% of tests compared to an industry average of 40%. See test results.
Identity Theft Protection :
Identity theft can happen to anyone, anywhere. ZoneAlarm delivers superior PC based protection and exclusive data encryption, and also offers offline identity protection services.
Daily Credit Monitoring and Fraud Alerts – Provides credit scores and recovery services to secure your identity online and offline. (US only).
Victim Recovery Service – provides free telephone counseling to guide ID theft victims through resolution and recovery (US only).
Anti-phishing / Site Status Toolbar :
Blocks spyware distribution sites and fraudulent "phishing" websites that trick you into revealing personal data.
Anti-phishing – Warns you and blocks fraudulent "phishing" websites that trick you into revealing personal data. Advanced heuristics detect brand new phishing sites created seconds ago that standard anti-phishing security misses.
Spy-site Blocking – Warns you and blocks web sites that are known to distribute spyware.
Site Authentication – One-click tells you when a site was registered, where, and if it is known to be dangerous
Ease of Use :
Automatic Operation.
Focus on what you want to do, we take care of the rest.
Quiet Security – Reduced the number of program alerts users see by over 90%.
Works with all Anti-virus – Seamlessly works with other security software so you can add to the protection you already have.
Automatic Updates – Automatically keeps your security lists up-to-date of viruses, spyware, dangerous programs, phishing and spy sites.
Download Zone Alarm Firewall From Here:

Note : If link is broken, comment below